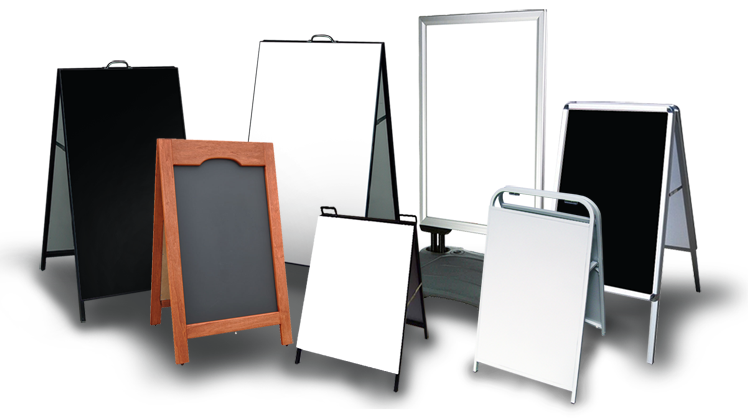 A-Frames - Popular Portable Signage
The varied types of a-frames can offer popular portable signage choices. Let MG Signs customise to suit your needs.
Also known as sandwich board signs they are robust units built for all weather conditions and traffic areas and offer the ease of being able to move your signage around to any location. A-frames prove to be a cost effective – easily stored form of signage.
Types of A-Frames Include
Endure a-frame – Heavy duty plastic frame which is light weight, easy to carry and compact, folding up into its own case. They are almost indestructible and perfect for Real Estate signage. Best supplied with full colour digital print and lamination on both sides.
Footpath Display – Waterfilled base. These small, compact and portable signs are designed to be arranged on the footpath to attract the passing traffic.
Premium a-frame – Top of the range frame
Snap a-frame (internal use only) – These poster frames snap open on concealed hinges ideal for interchangeable graphics and posters.
Snap a-frame Plus (internal use only)
Classic a-frame – This frame is suitable for outdoor use and comes with a small handle on the top for ease of carrying. Manufactured from 20mm steel tube with colorbond steel face and high-grade vinyl can be applied to the surface size 600 x 900mm
---
Sample Gallery
view some examples